Superior versatility of TANA Shark waste shredder allows it to be customised to meet different needs perfectly. Whether you need to handle tyres or C&I waste by modifying TANA Shark you will find the optimal and the most efficient way to process your materials. With the right configuration for specific application you get the most out of your waste management operations. Here we will show more about how you can customise TANA Shark waste shredder to boost your processes. These options presented are just examples of many customisation options, you have many more to choose from.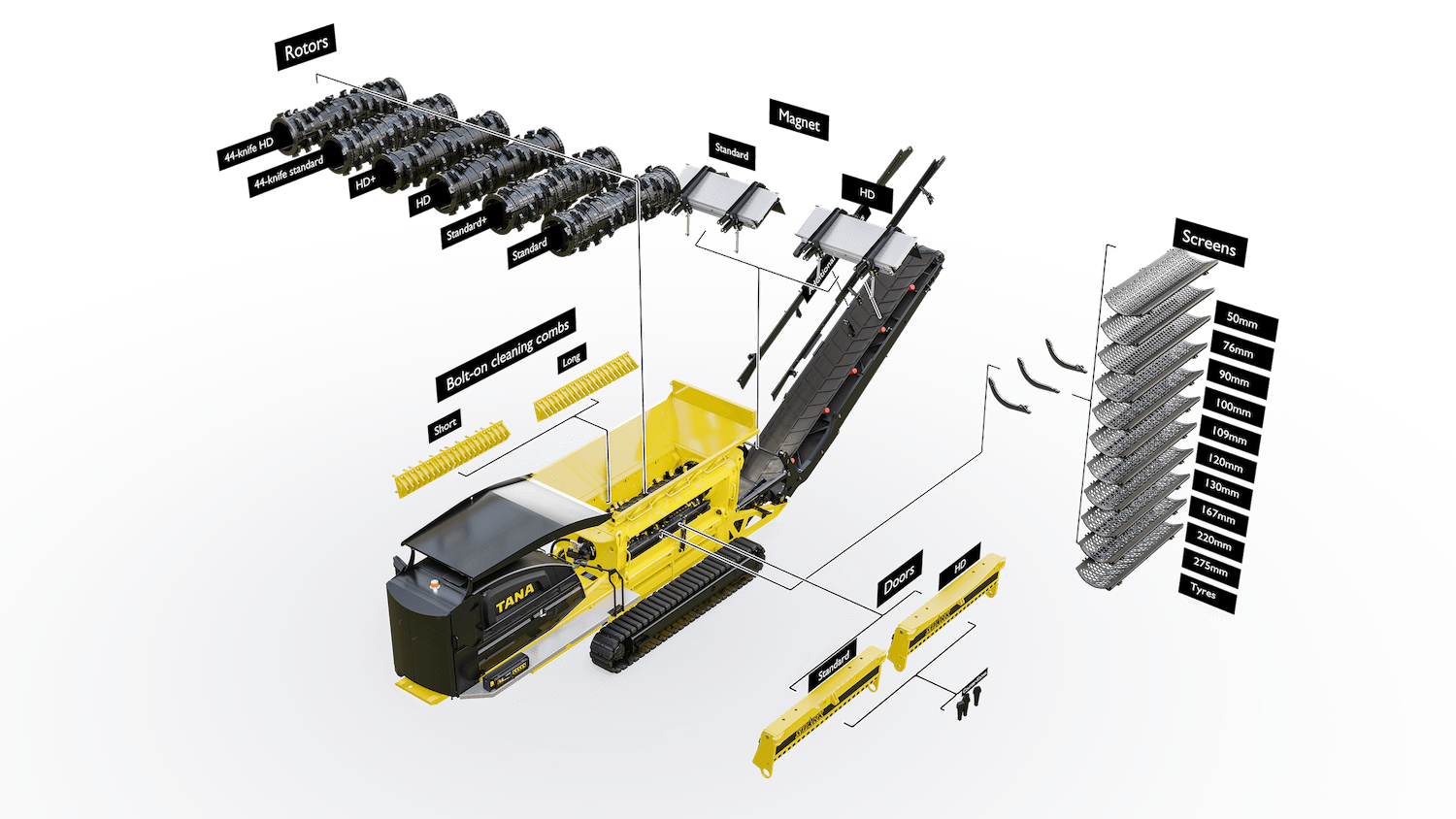 In addition to standard rotor (33 knives) on the machine, there are five different rotor options to choose from. Alongside the standard rotors HD rotors are meant especially for abrasive materials such as tyres where rotor surface wear is high. For maximal durability in extremely tough conditions PLUS rotors with more robust rotor tube are available. Recently extended rotor offering also includes new rotors with 44 knives. These rotors are recommended for heavy duty use and for increasing production with selected materials.
Cleaning combs also allow TANA Shark to be modified for different materials. Bolt on cleaning combs are available in two different sizes: short and long. Shorter combs are for tougher materials to ensure the best durability and wear resistance. Longer combs are for easier materials to ensure the best output quality when a homogeneous particle size cannot be compromised. Bolt on cleaning combs also enable a quicker fix since it is easy to replace damaged ones without welding.
In order to ensure and adjust the end product particle size of the shredded material a suitable screen is one of the most significant factors. Selection of screens with different mesh sizes provide the possibility to adjust the particle size for different kinds of materials and for different end product sizes. Also, plug-in type rotor screens make the installation and removal easy even in field conditions.
Optional over-band magnet helps you increase the profits of your operation by separating valuable metals from the waste, as well as making a cleaner end product. You can choose either standard or Heavy Duty magnet for your needs. Stronger Heavy Duty magnet is especially recommended for use where shredded material is relatively small and all metal needs to be separated.  In the updated over-band magnets the space between the magnet conveyor and the discharge conveyor can be controlled by TANA Control System (TCS) during operation.
To keep shredded material on the discharge conveyor side covers are recommended. Especially, you will need side covers when processing light materials such as mattresses or when doing coarse shredding with high volume of materials. The side covers also ensure that the work area stays clean in windy outdoor conditions. 
Examples of customisation options for different processes
Producing RDF from packaging materials
For more information about TANA Shark customisation contact your local Tana distributor