"The operators love the machine," he says. "They really can't fault it, to be honest."
Original article "Crushing compaction" published in Waste Management Review on 5th April 2023
At Tana, we take pride in being a leading manufacturer of waste management equipment that offers reliable and efficient solutions to our clients. In Australia, at MH Earthmoving Pty Ltd, our TANA H380 landfill compactor has been the key to successful landfill management. The compactor has allowed the company to manage construction and demolition (C&D) waste with ease and efficiency.
Martin Hay, the owner of MH Earthmoving, was looking for a compactor that could handle the robust and non-putrescible C&D waste his company manages. He wanted a machine that could provide optimal compaction with minimum fuel burn and operator hours. After testing a few different machines, he chose the Tana H380.
"What sold me on the TANA compactors is their full-width drums, as opposed to big wheels that leave a gap in the middle. From the trials we ran, we found the TANA gave us about 35 per cent better compaction – and that's a big difference." Additionally, the TANA's full-width drum design maximizes coverage and eliminates waste extrusion, making it a fuel-efficient and operator-friendly machine.
The TANA H380 has a Cummins Tier 3 engine (or Tier 4 final on the H380eco model) and TANA's ProTrack information management system. The ProTrack system can provide detailed fuel consumption and operational reports with the optional ProTrack reports feature. Martin was impressed with the fuel economy of the machine, which he estimates is 15% better than other compactors he has used. "With the price of fuel these days, that's a pretty important factor."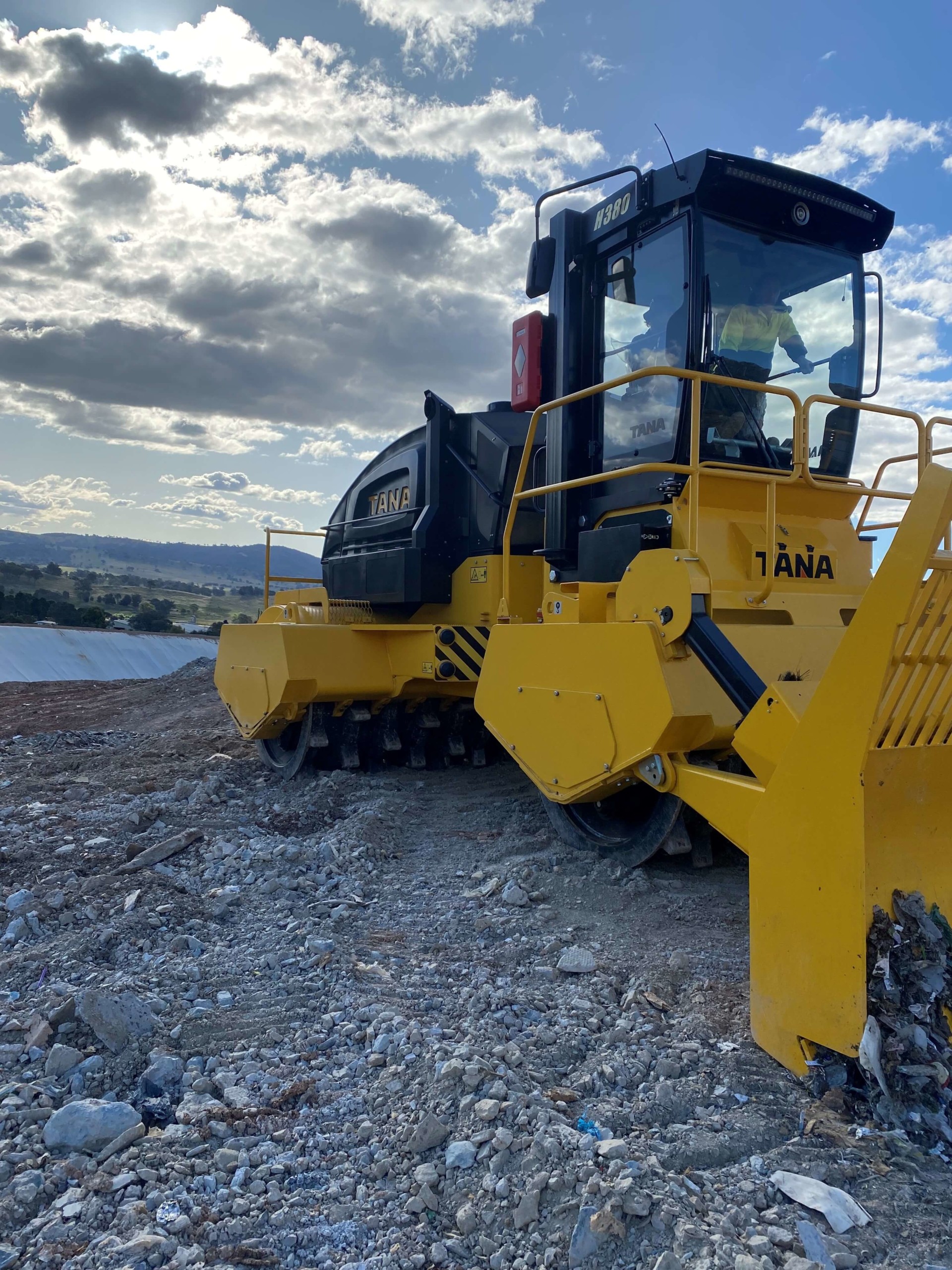 The TANA H380's low center of gravity ensures that the machine maintains stability, even on a 50-degree slope. This stability provides operators with peace of mind while working with the machine. "We've had it on some pretty weird angles, and it's never been an issue. It's very stable." The H-series cabin-forward design provides consistent visibility to the blade, and its pressurized, heat, and sound-insulated cabin is critical, especially when working with C&D waste.
For MH Earthmoving, consistency and reliability are essential factors in their operation. "If your compactor's down, compaction levels can get away from you – and it's critical that we're keeping any airspace in these landfill cells to a minimum." The support provided by Australian TANA distributor GCM Enviro has given Martin the confidence that his business is in good hands.
The TANA H380 has been a game-changer for MH Earthmoving, providing the company with the efficiency and reliability it needs to succeed in the waste management industry. We are thrilled to have been a part of MH Earthmoving's success story and look forward to continuing to provide innovative waste management solutions to our clients.