Story originally published by National Equipment Dealers (NED), LLC
"I just can't say enough good about them"
Kevin Smith (in the picture on the right) is the North Carolina governmental and municipal solid waste rep for National Equipment Dealers (NED), a large heavy equipment rental, sales, and services company with a long history of customer service and support. Now under one name, NED is represented across five states with fourteen locations in Texas, North Carolina, South Carolina, Georgia, and Florida. Smith is paying a visit to Coastal Regional Solid Waste Management Association. 
"The TANA E520 behind us is their third unit that they have purchased. We've had a long-lasting relationship with Coastal Regional. This unit was purchased and commissioned back in January, and they've been running it ever since. They are now going to be purchasing their fourth unit, another E520, and retiring their oldest unit," Smith says. 
John Keith (in the picture on the left) is the master mechanic at the Tuscarora landfill operated by Coastal Regional Solid Waste. Keith has been at the landfill for the past seven years but has 52 years of experience with heavy equipment. 
"If you want to learn something about TANAs, talk to me," Keith says. "I know the ins and outs, the ups and downs and everything that can but never goes wrong with these machines. They compact the best, they're the best on the operators, and they're easy to service. I would say in the last six years we've probably had about a 97% uptime with these machines, plus 50 gallons a day less per machine in fuel." 
"Coastal Regional has been a great partnership with us," says Kevin Smith. "They've allowed us to bring other municipalities, other counties and also other states, such as Florida, Georgia and South Carolina, to their landfill to show other landfills around our area how proficient they are with their operations. With the TANA compactor, they've grown their compaction rate almost twice as much as they had beforehand."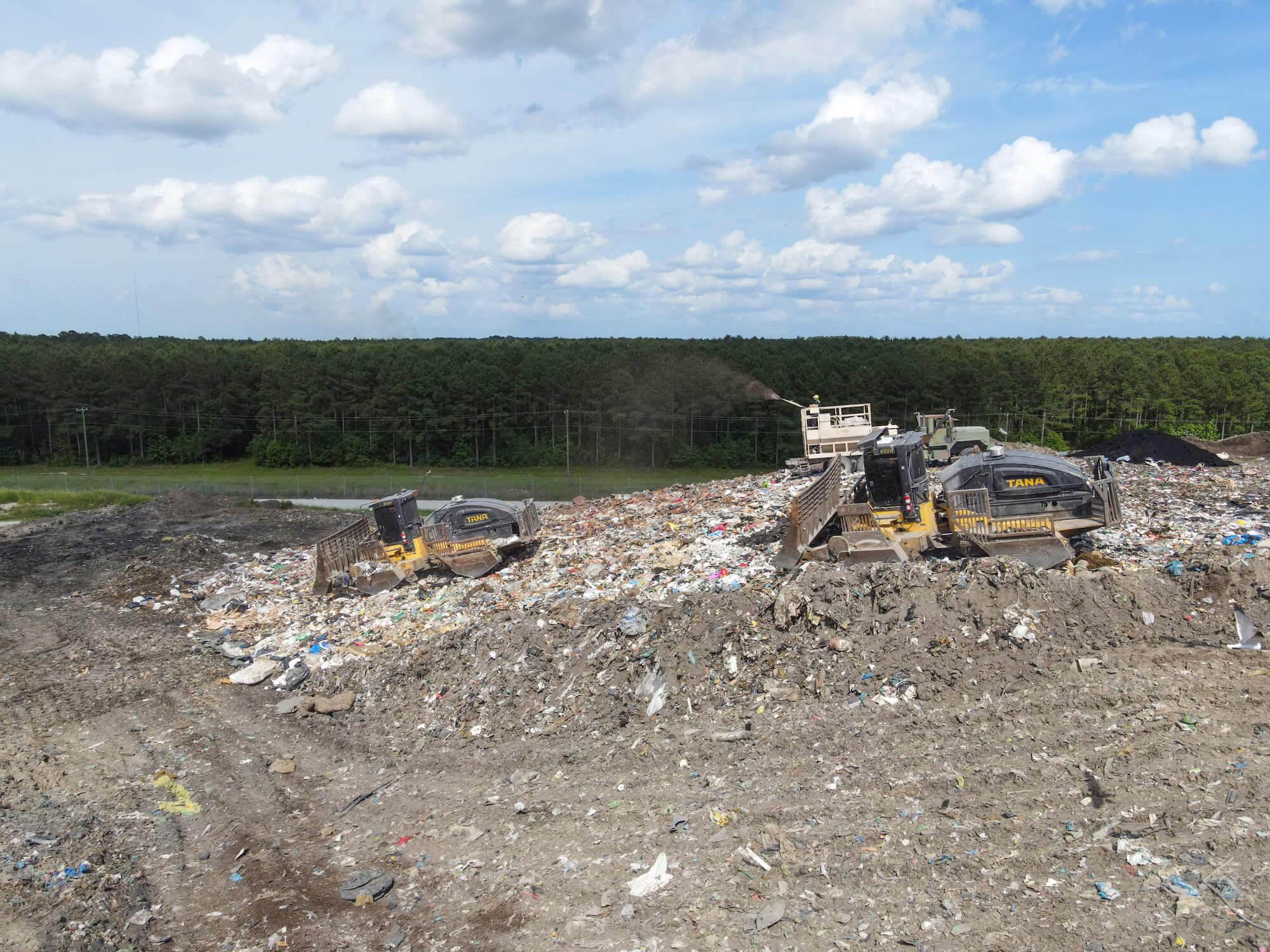 In search of the best compactor in the world
The first time John Keith discovered TANAs was when the Tuscarora landfill was having trouble with some of its previous compactors. When he went on the internet and typed in "What's the best compactor in the world", the TANA E520 came up.  
"So we called them up and requested a demo. They flew us to New York, and when we all got back in the truck afterwards, we looked at each other and said this is the future of compaction – I don't know what we're doing with these other things!" Keith remembers. 
Keith convinced his boss to buy first one and then another.  
"And we have never looked back. We're on number three, and number four is ordered. Pricewise, they're in the same market as everybody else, but you cannot beat them maintenance-wise. Hoses and everything on this machine is easy to service, and I just can't say enough good about them. If you go through the regular maintenance, and this TANA will tell you when it wants something done, they'll run so good you can't believe it!" 
Keith has also found the TANA landfill compactors to be much more fuel efficient. 
"Our previous equipment ran at approximately 200 to 220 gallons a day, and we're running 130 to 150 a day – and the TANAs are doing the exact same amount of work. Both of them had Cummins engines, so these are just far more fuel efficient. They even have an idle shutoff. The engine's also quieter, and it's more comfortable for the operator." 
Admittedly, it initially took operators a couple of weeks to get used to the advanced machinery. 
"When the operators first climbed into the machine, I had people climb up and tell me they're not going to run, the back end goes the opposite way as I'm looking, but about two weeks to the day after everyone ran this machine, I was getting hugs from the guys! First of all, the TANA is super quiet, you can see all the way around it, and they have a backup camera. In fact, the visibility and the temperature control and the ride is just 10 times better than anything they've ever had. They don't have to turn around to look, they can just look where they're going – they love it!" 
The quality of the work is also second to none. 
"It flattens out as you can see on our landfill – we don't go over this, this is all done by the TANAs. They level far greater than any of the other machines, because you don't have any oscillation. Everything stays flat. If it doesn't crush down, it's going to run over and smash it flat, so it'll work," Keith confirms.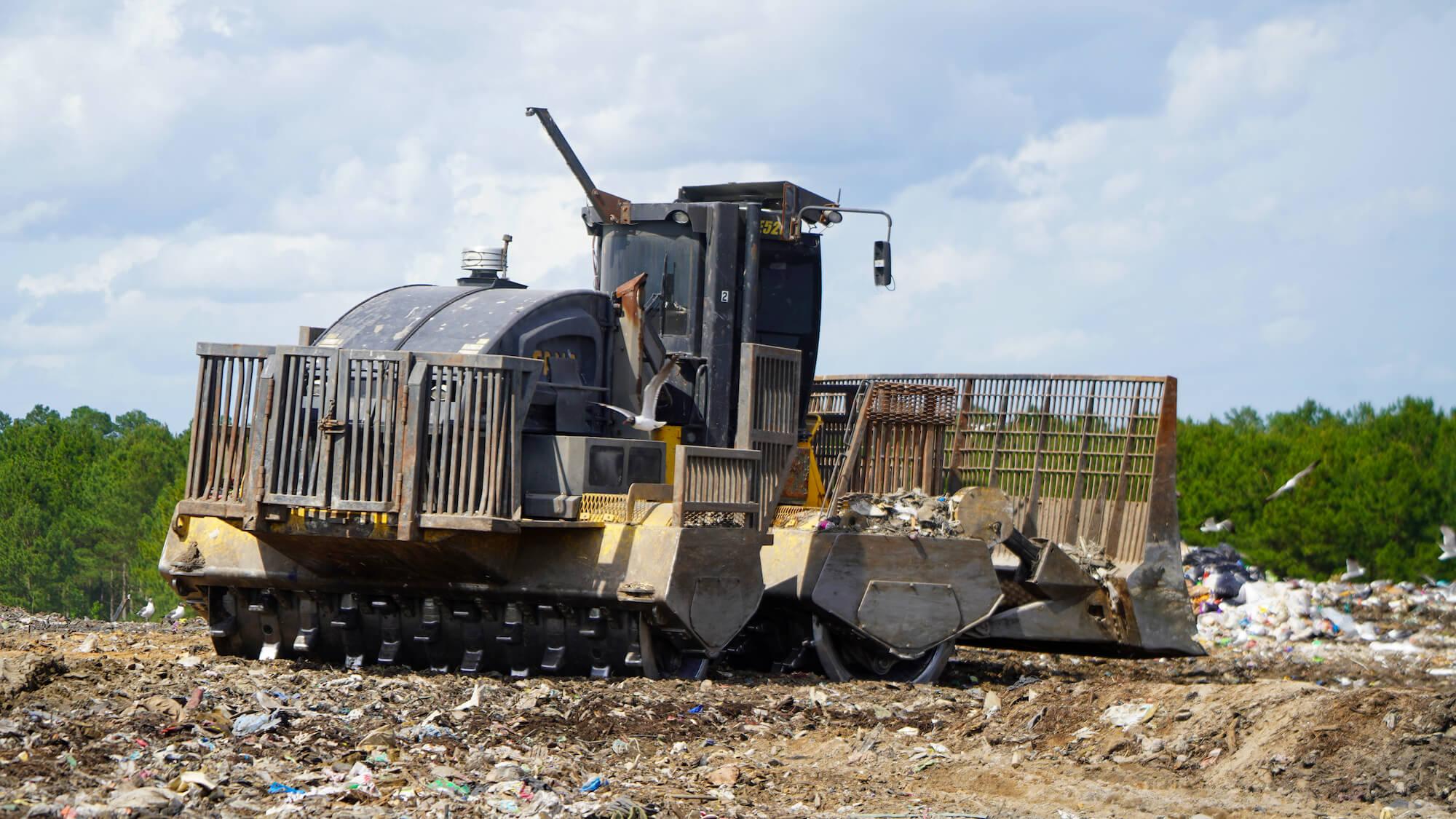 Great design makes maintenance simple
John Keith is so convinced by TANAs that he claims he wouldn't touch another four-drum machine. 
"As long as I'm here we're not going to, because first of all, these last longer. Second of all, it can compact better, and no one believed that until they tried it. We've had it tested every way, from geological flyovers to computer testing, and these are the top. TANAs offer the most compaction you can get, they don't get stuck, they ride better, all the cleats get cleaned with cleat cleaners, even the way that they've put cutters on all four corners to keep cables and everything out from trapping in the wheels – it's phenomenal."  
From Keith's perspective as master mechanic, arguably the best thing about the TANA E520 is the ease of maintenance. 
"It's a great design. From a maintenance standpoint, you can completely service this machine – that's all four planetaries, change the hydraulic filters and do the engine – in two hours. Now maybe I'm going too fast, but if I'm 70 and I'm going too fast, something's wrong with you, because they're easy to do, simple. You just walk around it, open all four doors, drain the four planetaries, take samples and go back around. You can pull all one side, all the filters for everything, or on one side or in the back. The way the hood opens up, you can clean the radiator easily, plus they have an inner screen you can pull out. We no longer have trouble keeping debris out of the radiators, which can cause overheating. Plus you have to stop the machine to try to clean it. With TANA, you don't have that trouble. Yes, the TANA has got to be cleaned, but not nearly as much," Keith adds. 
Great partnership between dealer and customer
According to John Keith, the relationship with National Equipment Dealers has been absolutely fantastic.  
"They monitor the machines every single day, and if we need anything, we get parts overnight or at least close to three days. NED's right here – they're prompt, courteous, can't say enough good about them!" 
Kevin Smith from NED is equally complimentary about Coastal Regional Solid Waste. 
"Coastal Regional has been a great partnership as far as servicing goes. They've given us prompt and adequate information when the machine happens to have an issue or when the machine goes down for maintenance," Kevin Smith adds.