"TANA landfill compactors are unique"
Mechanic Marko Vuori assembled frames for TANA landfill compactors and saw for himself at the Mustankorkea landfill in Jyväskylä how effectively they compacted the waste. These days, Marko maintains and services TANA landfill compactors and other machines throughout Finland. 
"It gives you a good feeling when you fix a machine and get it working. Last spring, I brought back to life an old green TANA landfill compactor that had been exported to Norway in the 1990s. I myself drove it onto the shipping pallet. It's unbelievable to think that the exact same machine returned to Finland to be fixed by me. These days, it's still working in Ylivieska," Marko Vuori says. 
Marko joined Tana in the 1990s, originally as a flame cutter; he was invited to work by the supervisor at the time. His tasks included manufacturing frame components. At the time, TANA landfill compactors were manufactured in the workshops in Jyväskylä, Vaajakoski and the Väinölä shipyard. 
"I did flame cutting for several years until a fire destroyed the workshop in Väinölä and production was transferred entirely to Vaajakoski," Marko recalls.
Fire marks a turning point
The fire of 1993 was a turning point in Tana's history. Afterwards, ready-made components were increasingly ordered from Poland and elsewhere, and the assembly of Tana's machines comprised mostly welding and fitting. 
"Later, even welding took a back seat when entire frames were ordered from subcontractors. After that, I fitted hydraulics and engines until the 2000s," Marko says. 
Appreciation shown in many ways
Marko Vuori enjoyed his time with Tana enormously, and he always felt that Tana really cared for its employees. This could be seen in many ways: parties were held, meals were served and nice Christmas presents were distributed. 
"We had good managers, great work colleagues and tools that did their job. We had our own sense of humour, even though not everyone got it!" Marko remembers. 
During his years working on landfill compactors, Marko witnessed the leaps in technology over the decades, and also how their emissions have been reduced. 
From operating landfill compactors to servicing them
After working for Tana, Marko Vuori went to work for one of the company's customers. He drove landfill compactors at the Mustankorkea landfill in Jyväskylä for many years and also serviced them. This made him appreciate how well Tana's landfill compactors really work.   
"The product is really unique and really compacts the waste well. My work at the Mustankorkea landfill was nice enough, but since I had been used to working with my hands and not sitting all day, I developed back problems." 
Today, Marko Vuori works as a service technician for Bimu and travels around Finland servicing wheeled and mining machinery. His job requires constant travelling all over Finland, and he usually works outdoors, rain or shine. According to Marko, this kind of mobile work suits him well. 
Friendship, not just a job
Massimo Moretti worked for 21 years servicing TANA machines in Italy. The relationship began when Massimo's entrepreneur friend asked him to take a look at a problem with a TANA machine. Massimo managed to solve the issue, leading to a maintenance service agreement with the company in question. Later, local representation and servicing of TANA machines transferred entirely to Massimo's brother's company (Service Pompe), also known as Tana Italia.  
"I fell in love with TANA machines at first sight, since their performance is in a class of their own. Our customers too are extremely satisfied with Tana's products for exactly the same reason," Massimo says.
Through his collaboration with Tana and training trips to Finland, Massimo also fell in love with Finland and Finns, who he claims are easy to get to know. 
"Klaus, Jarmo, Hannu, Mirja, Kari and many others have become good friends over the years. My best friend in Finland is Harri Uusi-Maahi, who acquainted me with the secrets of the Finnish sauna and ice swimming. The sauna became such an important place for me that I had to get one for my own home too – from Finland, naturally!"
Harri Uusi-Maahi also appreciates the friendship that he formed with Massimo at work. 
"We have a really nice and warm friendship with Massimo. We both like old motorcycles and are passionate about mushroom picking. Whenever we find really nice mushrooms, we have to send each other photos," Harri admits.
The contact between the two friends has been much more than just business. They have become friends with their entire families and still call each other regularly. They also plan to visit each other again as soon as travel restrictions are lifted.   
"Even though Massimo is already retired, he is still keen to help servicing machines whenever needed. Massimo always comes to the rescue if there is a particularly tricky problem, as he knows Tana's machines like the back of his hand! He is an important link in the transfer of know how to the new generation of Tana Italia."
"We have always had a good team spirit at Tana"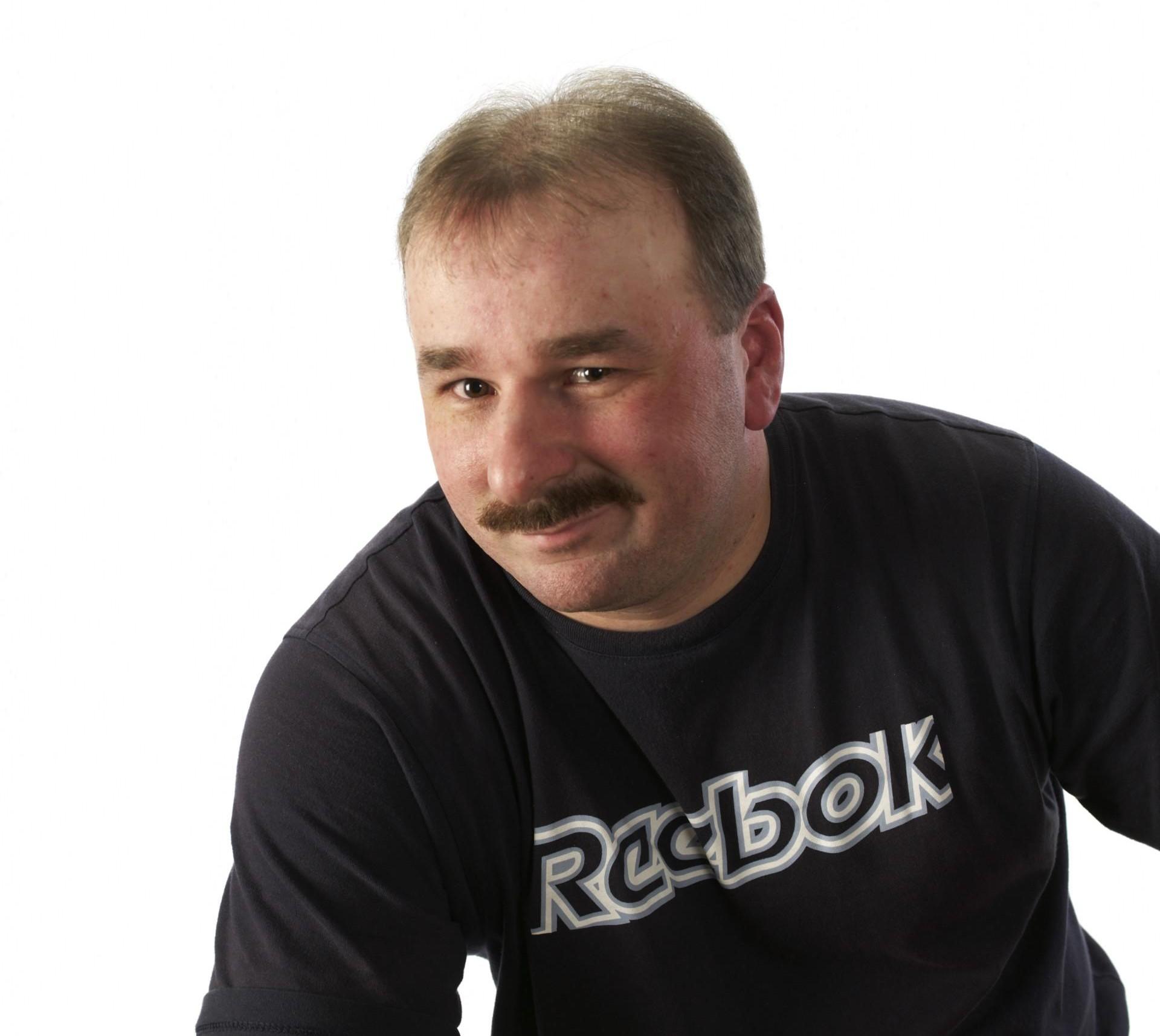 Warehouse manager Asko Palonen followed in his father's footsteps when he joined Tana. After a career lasting 25 years, he knows all the spare parts for TANA machines like the back of his hand.
Asko came to work at Tana in 1996 right after his military service and having graduated before then as an engine mechanic. 
"My father worked at Tana as a sheet metal welder, and he told me that help was needed in the spare parts department. And I'm still on the same road," Asko says, adding that he first walked through the company's door as a summer helper at the age of 14.  
Asko has become familiar with all the mechanics of TANA landfill compactors and shredders, and he knows all the spare parts that are needed for them. In addition to taking care of spare parts, Asko also sources and installs them, and he even operates landfill compactors from time to time when needed. In addition, he has served as chief shop steward representing Tana's employees. 
"I have enjoyed my time at Tana, because we have always had a good team spirit here, and the employees are true professionals in their own fields. Our way of working is also very straightforward, and we have very clear goals," Asko says. 
Will to develop is the secret to success
When Asko Palonen joined Tana, the company was facing financial difficulties, but since then Tana has gone on to find international success. The reason behind this, Asko believes, is the company's will to develop. 
"We want to be world leaders in terms of technology. Our engineering team is extremely good and is constantly developing new innovations," Asko admits. As waste incineration and recycling have increased in western countries, demand for landfill compactors has declined. Tana responded to his situation by introducing shredders that can be used for preparing the waste for incineration or recycling. "At the same time, landfill compactors are still used," Asko adds. 
Delivering spare parts to the other side of the world
Tana's spare parts are delivered all the way to Australia and the USA – and they are also manufactured around the world. The number of orders has increased significantly: from around 70-80 a month a couple of years ago to around 150 a month today. Spare parts help extend the service life of Tana's machines. 
Asko Palonen enjoys his work for many reasons. "My job keeps me fresh because it's not monotonous. The spare parts change as the machines develop. I like to work with my hands, and my work has its own little challenges, which I enjoy. For example, with large orders, I have to think how to do deliver them as fast and easily as possible. I also plan how the spare parts are packed so that they arrive safely at their destination," Asko says. 
Sensitive electronic components, for example, are packed in cardboard boxes with lots of padding, while entire cabs require special crates that are supplied by a subcontractor. The biggest deliveries are packed in shipping containers. Asko happens to have a great memory for numbers, which is a big advantage in his work. He can even remember product codes from years ago!
Working with spare parts is a kind of gym
Asko's work also requires good physical condition, as he lifts parts that can weigh dozens of kilos each day and the largest deliveries can weigh thousands of kilos. For the most part Asko works by himself, but during peak times he is assisted by others. 
Tana's spare parts management is now subcontracted to Vähälä Logistics, which is now officially Asko's employer, although the work has remained the same. Asko has especially fond memories of Tana's employee holidays to Estonia and Peurunka. "I fondly recall everyone at Tana, and I would like to send my greetings especially to those with whom I have worked!"
Kindness and equal treatment
Tuire Hautakangas, hostess
"I looked after food services and cleanliness at the workplace from 2005 to 2016, when I retired with longing minds.
It all began when Tana was looking for a cook to provide food at the workplace. CEO Kari Kangas offered me the position, and so I began working as hostess.
I have warm memories of my time at Tana – they were the best years of my working life. I was always happy to go to work and plan my tasks the way I thought was best.
I often started my workday ahead of schedule, even if my official working hours were 6am to 12noon. I didn't really look at the clock, I just did everything that had to be done at my own pace.
I maintained order as needed. I instructed others to keep everything neat and tidy. I got the message across by giving orders in a friendly way and seldom had to repeat myself. I felt that I was liked, and it showed: we always greeted each other, regardless of our positions.
Visiting customers, especially when they arrived from abroad, made my work all the more colourful. I would plan their meals in advance if I was told they had special requirements. I am not very good at languages, but the others would translate and in that way we would exchange pleasantries.
I have a lot of good memories from special events, such as our Christmas parties. They were always fun, even if I am not much of a party person. I remember once when a work colleague, who has sinced sadly passed away, wanted to make sure that I got home safely from the party and ordered me a taxi. He even told the driver to make sure that Tuire got home safely. I remember that warmly. I also fondly remember how the other girls at work used to apply makeup on me and make me look pretty, even though I never use makeup otherwise.
I have to say, I've never had such a nice employer as Tana and CEO Kari Kangas. His kindness and equal treatment make it very special. He always asked how you were doing and was friendly. If all bosses were that good, Finland would do really well!
I wish Tana all the best for the future. May you continue along the same path for the next 50 years!"
Tana's most expensive employee
Landfills have been goldmines for many companies, as everything has to be done according to regulations. "In the USA, for example, the law stipulated that compacted waste had to be covered by six inches of soil," recalls Tana's veteran mechanic Hannu Mättö, who represented the company overseas from the 1970s all the way up until 2007. During that period, he spent up to two hundred days a year on the road. 
In 1978, Hannu moved for one year to Springfield in the USA, where Tana had begun exporting landfill compactors. "It was really quite an experience, since I didn't know the language very well. I was sort of forced to learn," admits Hannu, who has been retired for 14 years already.  
"There was no public support or training, and there was always a lack of money – it was expensive to travel around the world in those days. The company's management even admitted that I was their most expensive employee," Hannu adds with a grin.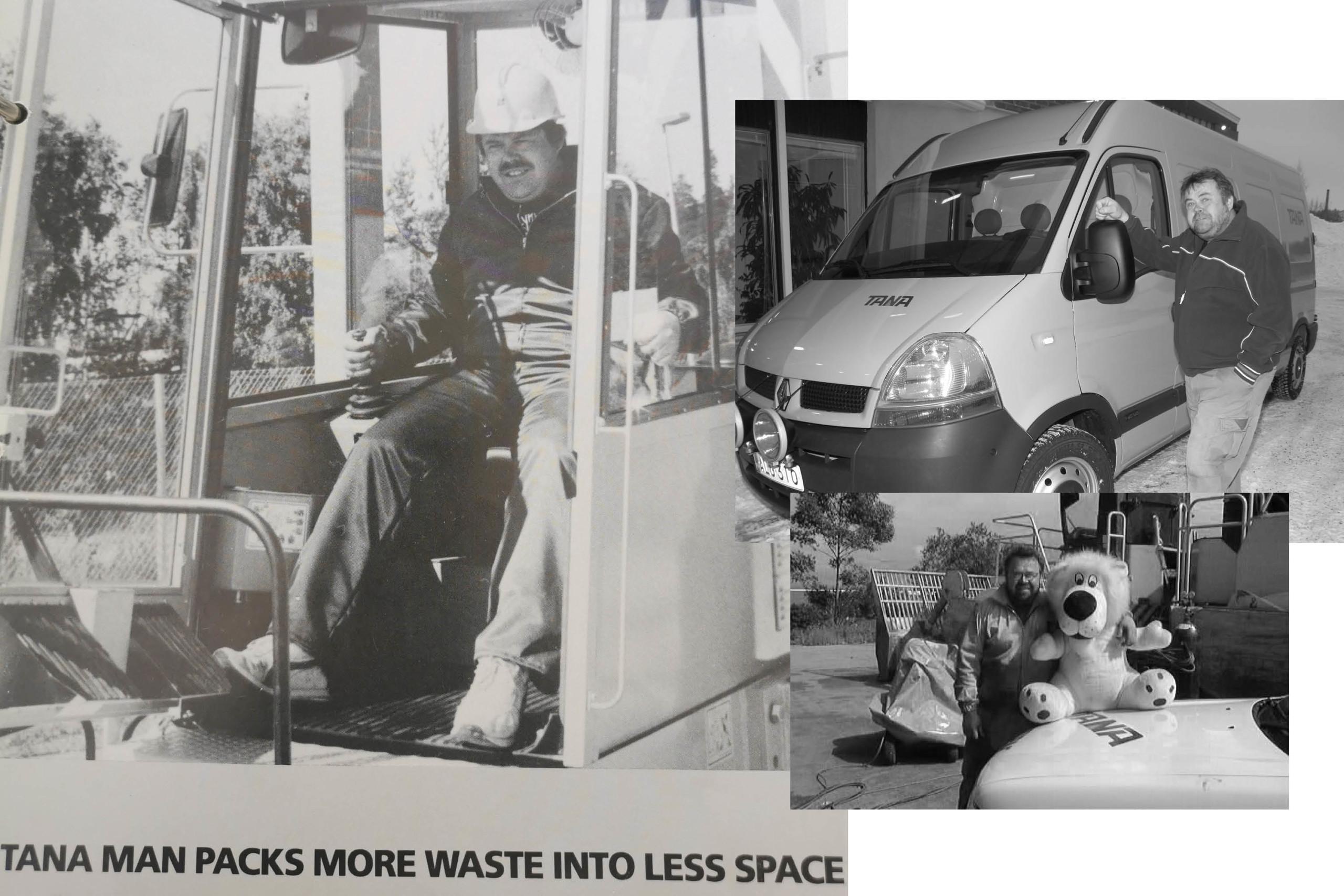 Hannu had acquired his metalworking skills through a three-year apprenticeship in Sweden in the late 1960s and early 1970s. After returning to Finland, he heard from his brother that when putting out a landfill fire he had seen an "unbelievable machine" and that it had been made in Väinölä, Jyväskylä. 
"So I got myself a job with Tana. I did everything there related to these landfill compactors, including welding and assembling. Once I had done everything, I was eventually asked to travel abroad to work on our machines in other countries," Hannu says. 
The situations he faced abroad required perseverance and ingenuity. All his travelling benefitted not only Tana's customers, but also the company's product development. "I took a lot of photographs and took notes about things that didn't seem to be quite right for the application in question. Many of my suggestions were introduced very rapidly too," Hannu adds.   
"No understand" probably helped in many situations
After the first landfill compactor was delivered to Germany, exports began to the Nordic countries, the European continent, the USA and around the world. Hannu Mättö flew back and forth making repairs on machines that had been in heavy use, all the time accumulating expertise on the demands put on the machines in different conditions.  
"Our product wasn't quite ready for such heavy use on these enormous landfills. For example, the reduction gears at the time weren't up to the job at first," he says. Tana's landfill compactors were still ahead of their time. Waste had to be compacted in order to take up less space, and regulations required lots of soil on top of the compacted waste.  
"Our machines levelled the waste very nicely, so there was less need for soil. A relatively small amount was needed to hide the waste and make it look tidy," Hannu describes.  
The workdays in the USA were long and customers were demanding, and the atmosphere was not particularly marked by trust. "If someone started demanding details, I had to reply, "no understand". Even with my poor knowledge of English, I had to choose my words carefully," he explains. 
Tough times, but always moving forwards
Tana's machines arrived in Australia in the 1980s as part of a countertrade for Hawk fighter jets. The hydraulics began to suffer in the hot conditions, so Hannu Mättö was called upon to perform maintenance and repairs. Before long, "tropical-condition cooling systems" were designed for the machines. 
"I have flown round-trip from Finland to Australia 39 times. I was picked up straight from the airport and driven out to inspect the machines. I was often made the scapegoat, but at the same time I understood that it would get better as soon as we got the machine working again," Hannu recalls. 
Decades of travel took their toll, especially on personal relations and health. Hannu retired in 2007 due to back problems. Nevertheless, he feels that his work was truly appreciated at Tana. "There were not many men who would have done the same job. They were tough years, but we were always moving forwards. Today's machines owe a lot to the expertise we gathered from around the world." 
If work has demanded a lot, it has also given a lot in return. "It gave me an understanding of how things are done and how people think in different parts of the world. And good friends," Hannu Mättö summarises.