When Tana was starting its business in the early Seventies, the times were very different from now. Re-using raw materials was not much of a priority and making use of the processed waste on a larger scale was still far in the future. When Tana built the first efficient machines for mechanical waste processing, the doors to a new thinking were opened – and so began their visionary work for realizing the value in waste. Over time, the added functionality and intelligence raised the recycling efficiency of their machines to a whole new level.
As Tana is starting its second 50-year cycle, the circular economy has become commonplace. The importance of recycling and waste utilisation is realized all across the globe, while the improvements in technology make recycling more sensible and efficient. The new thinking that was in its bud 50 years ago has fulfilled its promises and blossomed to new possibilities. In this new world, Tana, its people as well as its partners continue their work for smarter, more efficient processing and utilisation of waste.
Personal stories from over the years
We really believe in success through people. Over the years, Tana's story has involved many awesome, professional people who have made everything possible. Thanks to all these people, Tana has been able to achieve its current success.
Get to know Tana people over the years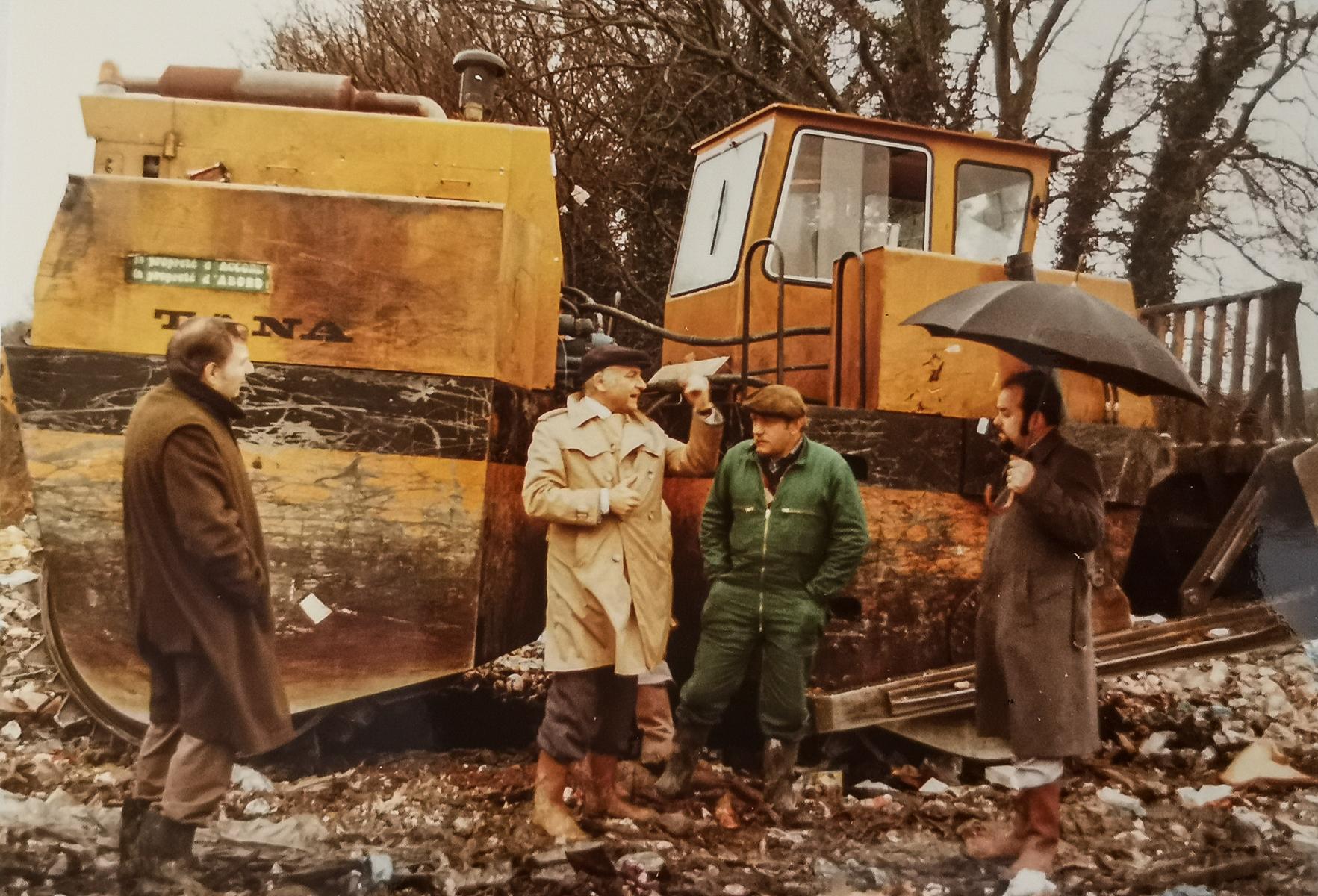 Tana's first 50 years have been marked by exceptional innovativeness and a pioneering spit, right from its very first steps to the present day. The Finnish company has achieved unprecedented solutions not only in terms of its products but also its operating methods, refusing to stick with the most common solutions unless they are the most sensible for any given situation.
Matti Sinkkonen, founder of the original company Kone-Jyrä Oy, was a technical innovator and inventor. Already his first product, a landfill compactor built around an ordinary tractor equipped with rubber wheels, demonstrated his innovativeness. He was then quick to modify the design with two full-width iron drums, demonstrating his ability to continuously improve his product based on customer feedback.
The company's speed and agility were also apparent in its marketing activities. Sinkkonen understood from the outset that the Finnish domestic market was too small to support the efficient large-scale production of landfill compactors. Already in 1971, the company exhibited at an international trade fair in Hanover, Germany. Ever since then, Tana has been international in its DNA.
Focus and expansion
A good inventor constantly gets new ideas. In addition to landfill compactors, the company also manufactured plastic products and patrol boats, which were delivered to the Iraqi military in the late 1970s. At the same time, Tana compactors were manufactured under license in Spain and East Germany.
Tana changed ownership 25 years ago, when its current owner Kari Kangas acquired the company together with two partners. The new owners decided to focus on landfill compactors and create a more simple and productive company.
Product development was accelerated. Norwegian importer Gitmark played an important role in developing the business. In Norway, Tana's market share in landfill compactors was 100 percent, the Tana Drivers Club was established for customers, and products were jointly developed by the importer and the factory. One example of these R&D projects was a patented swing frame system that protects the gearbox from overloading and possible damage.
An engineering company without its own engineering workshop
Tana's innovations were not restricted to its product portfolio but extended also to its operating methods.
In 2008 and still today, most engineering companies have their own engineering workshop where products are manufactured. However, many other industries, such as the clothing or electronics industries, switched to outsourced production decades ago. Tana decided to follow their example and switch to production collaboration.
Its last self-manufactured landfill compactor was made at the Vaajakoski plant in 2008. Since then, Toijala Works has been responsible for manufacturing.
By outsourcing production, Tana was able to focus more time and energy on its customers and their needs. There was no longer any need to worry about plant capacity and loads, workshop personnel, property management and the like. These days, Tana is an efficient organization that takes care of extensive business operations, while a reliable partner is responsible for the actual production of its products.
Growth and partnerships
Tana has set itself the ambitious goal of increasing turnover from the shy EUR 40 million today to approximately EUR 100 million. The company has continued to grow organically for years and will continue to do so in the future, but the growth leap will also require new partnerships.
The waste management industry is still relatively young and has many small and medium-sized operators. In the future, some companies will grow larger, while others will fade away or merge with larger ones. Acquisitions are a trend in the industry and Tana intends to be one that continues to grow with its own, strongly customer orientated strategy.
New partners will enable Tana to expand both its product range and sales network, as well as further develop its operations. Tana's strength in acquisitions is that it is one of the most profitable ones in the industry.
What is also clear is that the open-minded and innovative tradition that Tana has maintained for 50 years will continue also in the future.
Article originally published in Koneurakointi 3/2021 – Writer: Juha Pokki
Few would enjoy spending time with waste for more than 50 years, but someone has to do it, as the amount of surplus material shows no signs of diminishing. Finnish TANA landfill compactors have been developed and manufactured for more than half a century, and the world would be quite different without them.
Back in the golden '80s, one of my most memorable experiences was getting to ride along in a truck to deposit waste at a landfill. At that time, dumps really did correspond to that term, which has since fallen out of fashion, at least in Finland. They were simply places where waste was dumped. Out of sight – at least if you avoided looking at the vast mountains of waste – and out of mind. Yet there were lots of interesting things to see at the landfill, and literally at the top of it all were the landfill compactors rumbling on top of the heaps. Under their spiky drums, everything that had been dumped on the pile was levelled and compacted.
Waste becomes fashionable
The history of the growth of landfills has gone hand in hand with industrialisation, urbanisation and rising living standards. In the past, waste was mainly organically degradable, and its further disposal was not a long-term problem. As metal, glass and then even plastic gradually began to accompany the waste to be disposed of, actual landfills began to take shape. Volumes started to increase considerably for both municipal and industrial waste already in the 1950s. Larger and larger areas were needed for storing waste, as well as equipment for handling it.
It quickly became clear that dumping alone was not enough. Uncompacted waste not only took up a considerable amount of space, it also caused a variety of problems. Loose and airy waste smelled and also burned more easily, often causing inconvenience to the surrounding area, especially in summer. In addition, it brought with it quite interesting problems, for example in the form of rats. So equipment was needed to compact the waste.
In 1971, we were still almost a decade away from the Waste Management Act and any actual requirements for landfill management. Nevertheless, Matti Sinkkonen from Jyväskylä was a visionary who understood the need to compact landfills in Finland. And if there was demand for some kind of landfill compactor in Finland, what kind of demand might there be in the big world, where consumption was far ahead.
There was little recycling at the time, and it was mainly based on the idea that recycled products could be utilised in some way – not so much on environmental considerations. Metal, glass, paper and cardboard were collected for reuse, but much also went directly to landfills. The waste that had to be compacted therefore varied considerably, both in composition and size. The landfill could contain ordinary household garbage bags or a truckload of tin barrels – maybe empty, maybe full of who knows what. It is often said that one's imagination is the limit, but this did not apply to landfill waste. There was a need to develop a machine that could handle anything it came across.
Another thing to consider was that landfills, especially those that had not been compacted in the past, could hold quite a surprise in terms of carrying capacity. Heavy machines could sink deep or tilt, so it was imperative that they did not flip upside down very easily – preferably not at all. Naturally, power, durability and the ability to drive were also called for. There was plenty for Sinkkonen to do.
Fortunately, Matti had prior experience with compactors. Tana compactors with rubber tyres and based on the Valmet D361 and D864 were used for roadworks already in the late 1960s. However, bigger machinery was needed for landfills, so Sinkkonen's company Kone-Jyrä teamed up with Valmet to develop two large, articulated compactor models with rubber tyres based on the Valmet 910 and 1110 industrial tractors. They were sold as part of Valmet's municipal equipment series under the Valtra name with model numbers 30/90 and 30/115. The numbers referred to the maximum total weight in tonnes and engine power. These machines, too, were mostly intended for more traditional soil compaction tasks, but the idea for landfills came from this: what if they were adapted for waste applications?
From a rural community to the world
Crawler and wheeled tractors, as well as wheeled loaders, had already been used for compacting and transferring masses in landfills, but the problem was not only the weight but also the narrow compaction area. Whether they had rubber tyres or steel wheels, let alone rollers, the compaction power was limited by the track gauge. But if a roller with steel drum was used on the landfill, and the drum had teeth or spikes, it could work. That's what Sinkkonen thought, so he got down to work. When his first product was ready for sale, he exhibited it at the international trade fair in Hanover, Germany, under the new company name Tana Oy in 1971. When a local customer showed interest in buying the machine, he made his first sale.
Sales then accelerated, and very soon it became clear that the market really was further away from the countryside of Jyväskylä. With the introduction of the Waste Management Act of 1979, demand began to increase also in Finland. When the 1980s arrived, sales were made internationally, not only outside Finland but also outside Europe. The company began license manufacturing in Spain and the GDR.
Tana compactors became popular because they really worked. The structure was durable and designed especially for landfill applications. The machine did an efficient job, and while it could not do anything else, it did not need to – whereas wheel loaders and bulldozers were a somewhat half-witted solution to these special conditions, Tana machines did the job. And this was noticed among customers. In April, for example, the City of Naantali's Real Estate and Construction Board stated the following when justifying the acquisition of Tana machines: "The price of a Tana compactor varies from FIM 360,000 to FIM 500,000, depending on the size and model of the machine. It is unlikely that a better compacting machine with a Tana roller can be found, only cheaper but at the same time worse solutions."
The popularity of the machine type is also indicated by the fact that in Finland people began talking about a working method called "tanaaminen". In other words, compacting landfills specifically with a Tana. In practice, this meant compacting the waste layer to about 2-3 metres by driving back and forth several times over the waste. The machine was then used to spread about 20 to 30 centimetres of cover, which was often construction waste and even slightly contaminated soil. After that, new waste loads could again be unloaded on the load-bearing surface that could be driven on.
A time for everything – and still to this day
In Finland, the number of open landfills began to fall sharply from the late 1990s, when legislation began to change in an unfavourable direction for open landfills. In the end, the task of landfill compactors was to assist in landscaping and remediation of decommissioned open landfills. However, there are still customers in the world for landfill compactors, and Tana has remained at the forefront of development. Modern driver-oriented working conditions, 3D machine control and even more efficient machines are part of this development. Moreover, the company has not relied on just one product but has increasingly invested in the circular economy in waste treatment equipment, such as chippers, crushers, shredders and screens. This is a result of the intensification of product development that took place in this millennium, behind which has been Kari Kangas, who has owned Tana Oy since 2005. Since 2008, machine manufacturing has been carried out by its cooperation partner Toijala Works.
In another 50 years, Tana's history will probably be written with a very different range of machines in operation. However, compactors will still have a very strong role to play in this history, as they provided a solid foundation for current operations.
TANA brochures over the years