Tana equipment processes waste around the world. The Finnish company's state-of-the-art mobile shredders are a key tool for recycling tyres.
In the Mäntyluoto harbour area, entrepreneur Peter Blomberg operates his powerful excavator with routine confidence. He grabs seven hundred litres of tyres from a huge pile with a grab and drops them into the jaws of the shredder. Made by the Finnish company Tana, the shredder turns end-of-life car tyres into palm-sized pieces that can be reutilised in earthworks, in water purification systems and even as the base material for horse riding halls.
"With the exception of the largest heavy tyres, the shredder eats virtually every possible tyre. Big tyres are used for blasting mats," says Reijo Pirkola of Tana Rental, observing Peter Blomberg at work.
Tana's customer in Mäntyluoto is the circular economy specialist Kuusakoski Oy, the partner company of Finnish Tyre Recycling Ltd that is responsible for the collection and recycling of end-of-life tyres. Kuusakoski is a typical customer for Tana: a large company that smooths out processing peaks by supplementing its own capacity with Tana Rental's mobile rental shredders.
"For long distances, our mobile shredders are transported on a truck trailer, but in the tyre yard itself, the operator can easily move the tracked device by remote control," says Pirkola.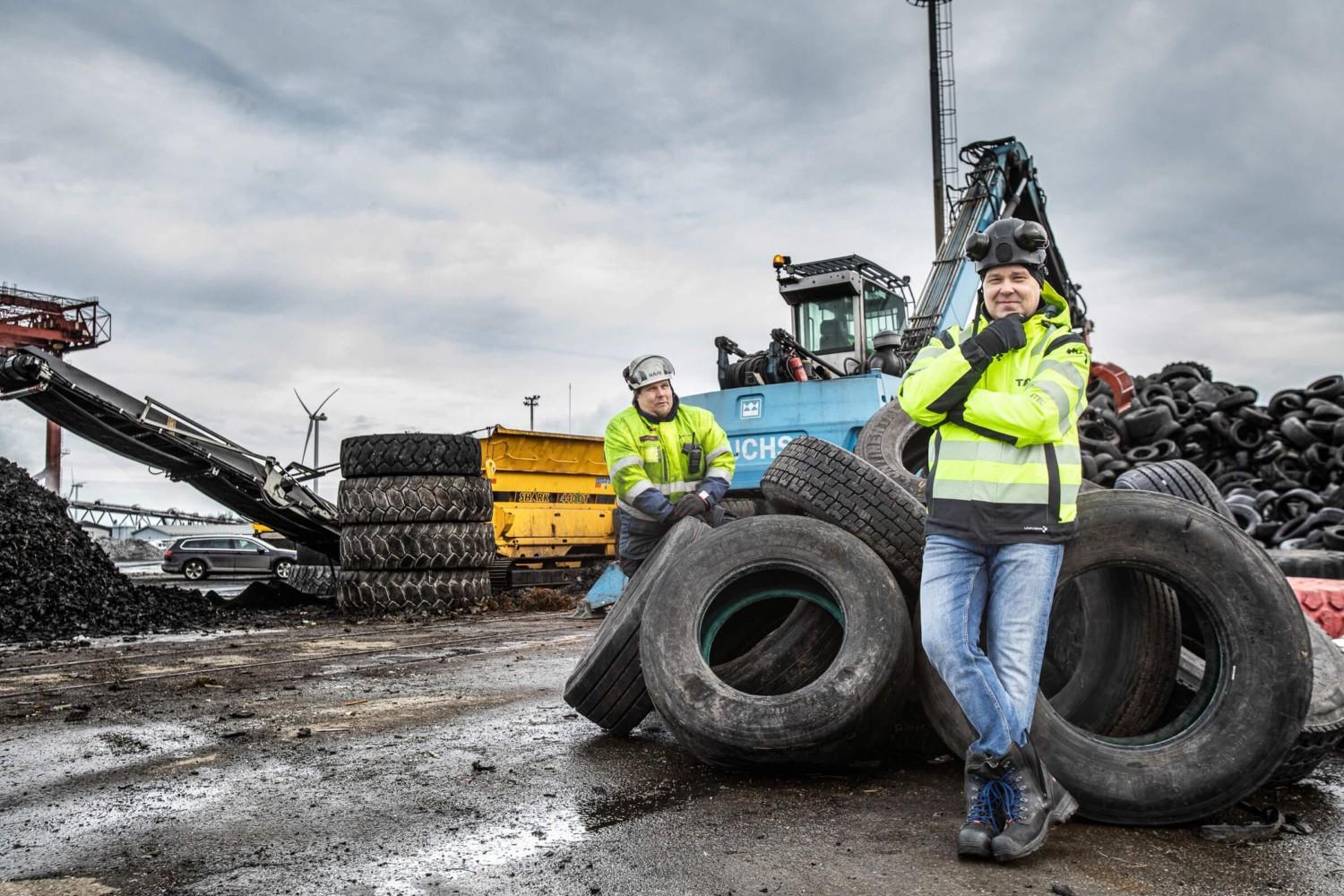 From Jyväskylä to around the world
Tana was founded in Jyväskylä, Finland, and turns 50 this year. The company's half-century journey began when it sold its first product, a landfill compactor, at the Hannover Messe trade fair in Germany in 1971.
"The name of the landfill compactor was Tana, which derives from the Finnish word 'tanakka', meaning robust and sturdy. Back then, Germany was still compacting its landfills," explains Mirja Yli-Erkkilä, Marketing Vice President at Tana.
Landfill compactors were Tana's top product for many years. The situation began to change in the first decade of the 21st century, when legislation, especially in the EU, began to require increasingly precise sorting and processing of waste to meet the needs of the circular economy. Today, the most important member of Tana's product family is its line of shredders.
Approximately 95 percent of Tana's products are exported. The company's sales reflect well the level of waste planning in different markets.
"We have not sold a single landfill compactor in Finland, the Nordic countries or Central Europe in years," Yli-Erkkilä confirms.
Since the waste is now pre-processed, only a negligible part of the waste, which has no value even for energy, is deposited in areas resembling a traditional landfill. The more a society moves towards a circular economy, the greater the demand there is for waste shredders in that market. Tana currently sells landfill compactors mainly to North America, Russia, and Eastern and Southern Europe. The Nordic countries, Central Europe and now Australia, by comparison, mostly buy shredders that are capable of producing recycled materials.
"Europe is in the lead in terms of the circular economy, but the rest of the world is following close behind," Yli-Erkkilä says.
Made in Finland, close to home
Tana's compactors and shredders are still designed at the company's birthplace in Jyväskylä, Finland. Since 2008, the machines have been manufactured in nearby Toijala by Toijala Works, a leading contract manufacturer for the Finnish engineering industry. Tana has maintained a high degree of domestic content in its product, even though the transmission components, for example, are supplied by world-renowned international manufacturers.
In this age of globalisation, a contract manufacturer could be found anywhere, but Tana wants to keep production close to home. Its shredders and compactors can cost anywhere from half a million to a million euros each, and less than a hundred units are manufactured each year, so it does not make sense to disperse such a small volume around the world. The high level of Finnish automation expertise also speaks in favour of local production.
"We do not over emphasise the 'Made in Finland" brand, but Finnish heavy industry does have an excellent reputation around the world, which also benefits our sales," Yli-Erkkilä admits.
Tana is also keen to uphold this reputation. At the same time, however, products like its shredders also reveal the challenges that Finnish society faces.
"It is hard to find enough skilled welders in Finland who are able to do welding of sufficient quality required to manufacture the rotors of our shredders, for example. Now the best welders come from the Baltic countries and Poland, and if we want to maintain the Finnish engineering industry, more immigration is needed. There is no way around it," says Yli-Erkkilä.
Mobile shredders accelerating business
Tana is now focusing on versatile mobile shredders in the rapidly growing shredder markets.
"The global shredder market is constantly changing as legislation and customer needs change, and we believe the versatility of Tana shredders will be the key to our success," says Yli-Erkkilä.
Building a fleet of large onsite shredders may be efficient, but it is also burdensome and expensive. As the circular economy is still a relatively new concept in most countries, the recovered materials needed for recycled products, for example, are still finding their form.
A mobile shredder capable of handling a wide range of materials is often a good answer. In addition to tyres, Tana's shredders can swallow almost any type of industrial and construction waste.
"Our lightweight and mobile shredders enable customers to produce efficient recovered materials with a reasonable investment. When the risks are tolerable, it is also easier to start a business," Yli-Erkkilä points out.
Tyres test the quality of mobile shredders
End-of-life tyres are among the most typical shredded materials for Tana. They also test the quality of the company's mobile shredders.
"As a material, tyres demand quality from the rotor knives, and the reinforcing materials contained inside tyres, such as steel and cord fabrics, in turn demand strong torque from the machine. In addition, shredders must be capable of separating steel, for example, by means of magnets," says Yli-Erkkilä.
Tyre recycling systems in different countries differ even within the EU, and even more globally. For processing tyres, Tana sells shredders to countries that differ enormously from each other. In Thailand, for example, the machines process tyre plant rejects, i.e. unusable surplus, into recycled raw materials. Shredders are also sold for tyre processing in developing countries, where waste management is not always very well organised.
"Transporting tyres involves transporting a lot of air and is expensive, making it cheaper to process tyres locally. In Brazil, there is a lot of enthusiasm for recycling tyres since whole tyres are a good breeding ground for mosquitoes that spread dengue fever," Yli-Erkkilä reveals.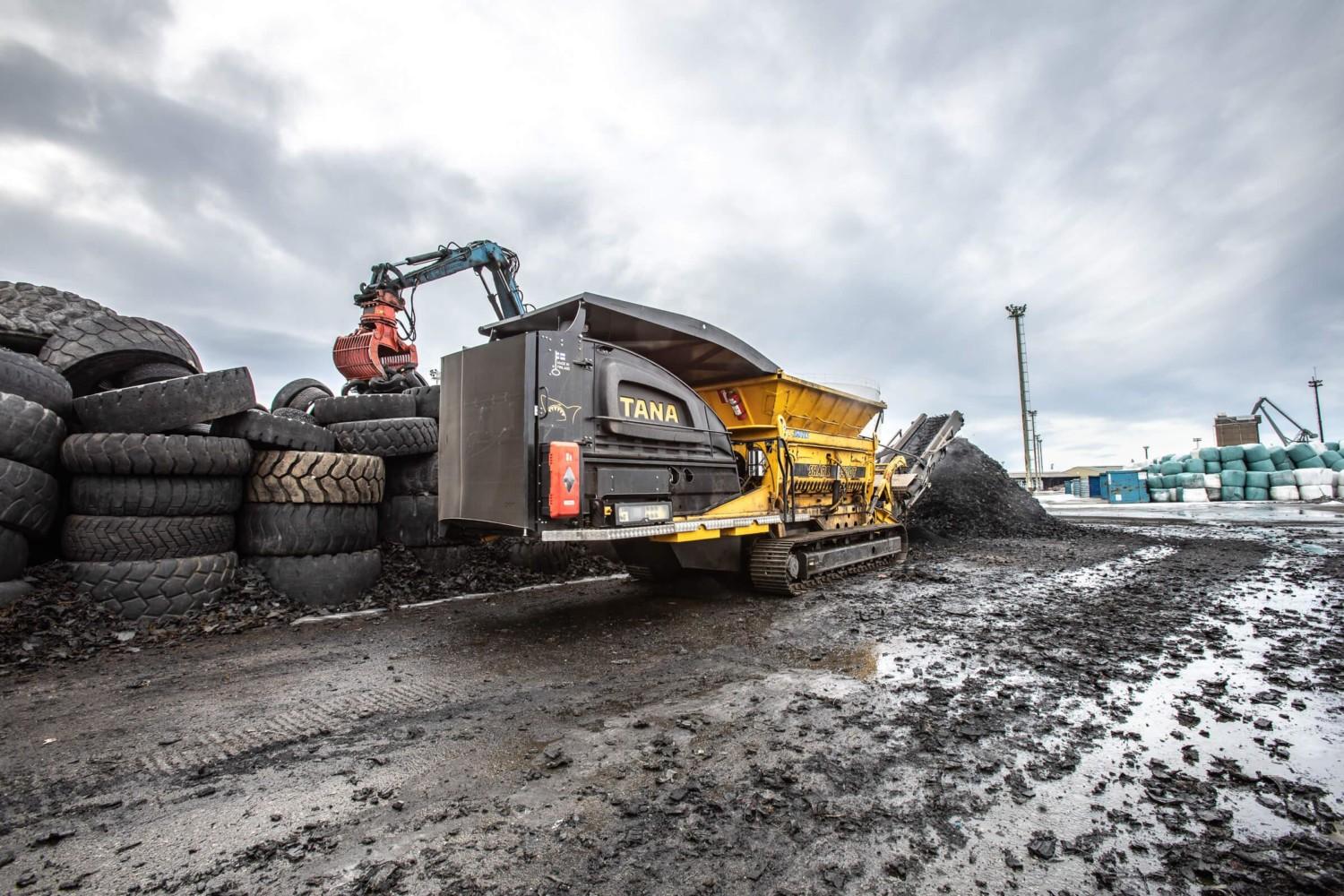 Smart shredders help improve service
Over the past few years, there has been growing awareness about technologies such as 5G and IoT, or the Internet of Things. These concepts involve how different machines and devices communicate with each other and their users. For example, a tractor or microscope can already be operated remotely from another location.
Tana's own products have been utilising IoT for remote tracking already since 2008.
"We have been pioneers in an industry that perhaps is not very well known for being progressive," laughs Mirja Yli-Erkkilä, Tana's Marketing Vice President.
Remote tracking enables Tana and its customers to monitor, for example, a machine's fuel consumption and anticipate service needs. In addition, the Tana ProTrack® system is also able to profile the machine's consumption and power according to the customer's current needs.
"Our goal is to provide our customers not just machines, but a service that helps them to grow their own business."
Text and pictures: Juho Paavola
Make sure you are choosing
the right type of shredder for tyres