TANA Shark shredder is by far the most popular shredder in the UK market with approximately 70 units already operative. TANA shredders, landfill compactors and screens keep the Tana UK service team busy supporting customers throughout the UK and Republic of Ireland.
The headquarters of Tana Recycling Machinery (UK) Ltd in Doncaster are bustling, especially in the early morning as service engineers load their vans before heading out to customers for the day. Doncaster is ideally located and has good access to major motorway systems, both north-south and east-west, allowing service engineers to reach customer locations usually within two hours.
"A typical day for our engineers starts around 6am if they need to get to the site for 7 to 8am.
A typical 250-hour scheduled service is a one man job and can be completed in a couple of hours, sometimes the services are carried out at the end of the day so there is no disruption to our customers production time."
Walker has a team of seven people with dedicated responsibilities. Rebecca Matthews is office manager and responsible for running the Doncaster base, Brooklyn Walker takes care of sales and marketing, Paul Milner manages the warehouse and Shaun Walker is responsible for overall operations. Service engineers Matty Love, Matty Smith and Tommy Fletcher visit customers at their sites throughout the UK.
"All three engineers have vast knowledge of all TANA equipment and know these machines inside-out. They are able to solve problems quickly and react to any possible issue with ease. You will not find better or more knowledgeable TANA specialist engineers anywhere," Shaun Walker says of his team.
Tana UK provides parts, service, and support for a large number of units. The TANA Shark is by far the most popular unit, with variants ranging from the early 5530 to the latest 440DTeco model. Some of the units in the UK have over 18,000 hours on them and are still operating and performing as new.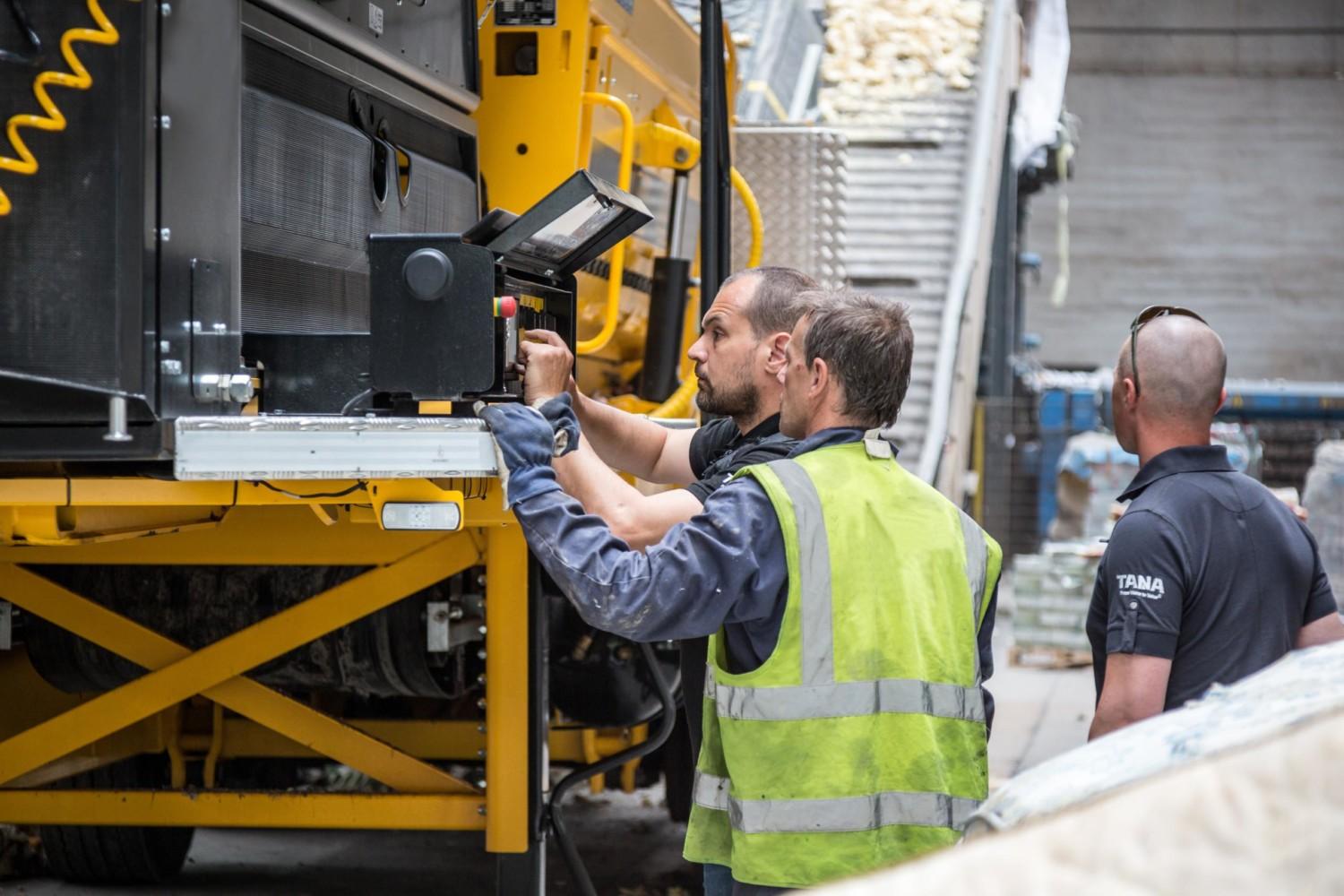 All TANA customers in the UK and Republic of Ireland have Shaun's direct mobile number for emergency calls 24/7. Fortunately, the TANA UK team has not had to go out at night, as most customers run only during daytime hours.
"I'm in contact with our customers on a regular basis, and we all have a good working relationship. I believe they trust I'm going to do what I say – and I'm always able to do what I say. I think they appreciate this greatly," Walker says.
Tana UK carries a large stock of spare parts in the warehouse. If a part is needed urgently, the factory in Finland can also ship parts express to the UK in a day or so. Some of the customers also use TANA ProTrack® telemetry.
"ProTrack allows us to look remotely at the condition of the machines. We also monitor hours and identify when service is due," Walker explains.
Customers use TANA Shark shredders for all types of waste, including wood, MSW, tyres, mattresses, general waste, C&D and C&I. TANA Shark shredders are renowned in the UK for their versatility and one-pass capability. Some customers run their full operations around the Shark shredder.
Tana Recycling Machinery (UK) Ltd has an excellent track record for service and is appreciated by its customers. Tana UK provides this service to an ever-growing fleet of machines and invests constantly in personnel, knowledge, spare parts and tools to develop service even further.
Tana Dealer of the Year 2019
Dedication of Tana Recycling Machinery (UK) Ltd to Tana and excellent development of their market share and processes have not gone unnoticed and we are very proud to have their team working with us. This excellent work with TANA machines has enabled that Tana Recycling Machinery (UK) Ltd was chosen to be the Tana Dealer of the Year 2019.